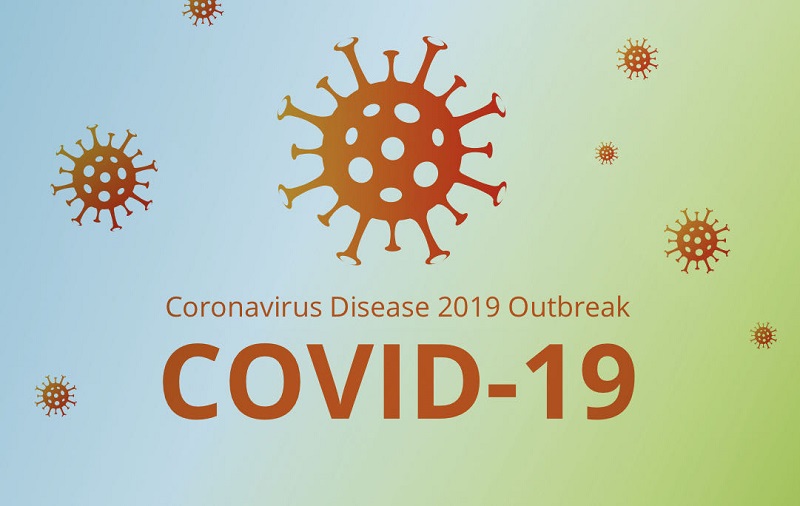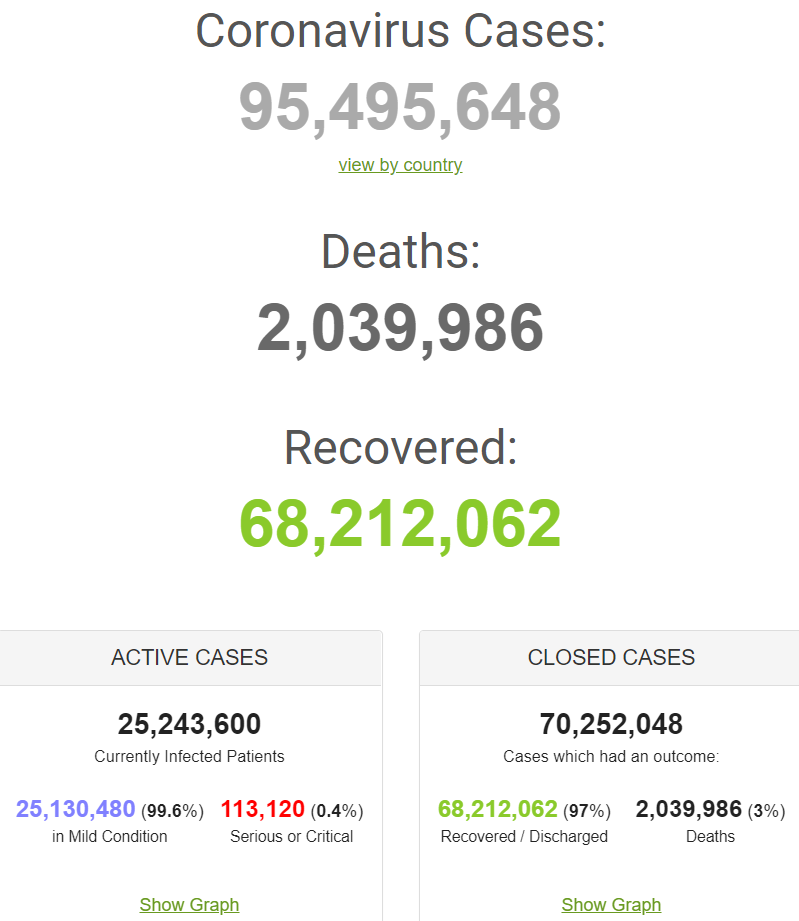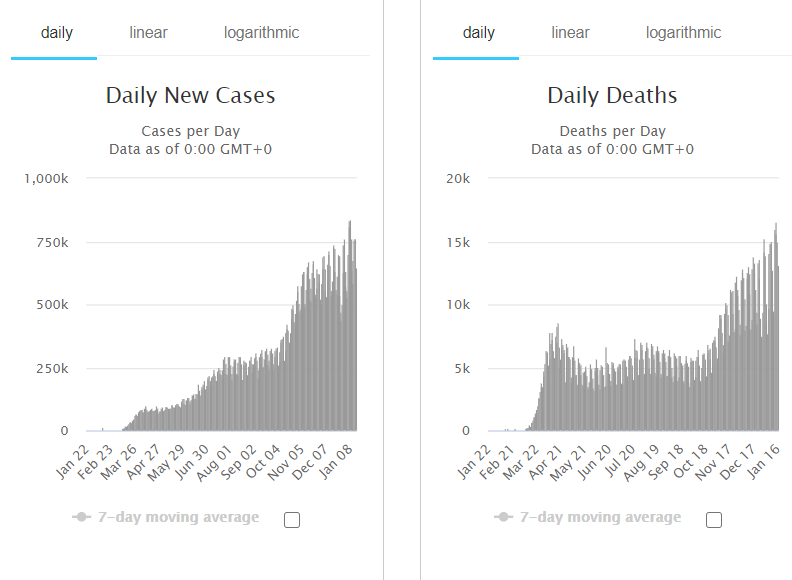 Country,
Other

Total
Cases

New
Cases

Total
Deaths

World

95,466,270

+532,559

2,039,131

24,482,050

+174,560

407,202

10,572,672

+13,962

152,456

8,488,099

+31,394

209,868

3,568,209

+23,586

65,566

3,395,959

+38,598

89,261

2,910,989

+16,642

70,283

2,387,101

+6,436

23,997

2,381,277

+12,545

82,177

2,252,164

+40,197

53,314

2,050,099

+11,427

47,440

1,908,413

+17,379

48,631

1,799,243

+7,264

45,407

1,630,258

+20,523

140,241

1,435,582

+6,055

33,355

1,337,926

+12,267

37,105

1,330,411

+6,016

56,803

1,160,682

+5,990

20,802

1,064,909

+4,342

38,871

912,554

+5,598

13,006

907,929

+11,287

25,987

889,234

+5,200

14,386

708,619

+6,436

18,014

693,644

+2,156

17,221

677,209

+2,120

20,396

669,832

+4,339

17,477

608,232

+645

12,944

549,801

+10,385

8,861

548,332

+4,833

4,005

527,632

+569

7,906

519,291

+2,521

10,951

500,577

+1,895

9,895

459,671

+806

7,942

393,778

+1,267

7,082

372,533

+1,317

3,750

364,929

+176

6,323

351,828

+1,241

11,341

322,296

+6,386

4,446

314,514

+957

4,145

298,019

+1,750

4,787

267,322

+266

1,959

253,261

+3,453

745

252,812

+3,654

1,906

247,805

+780

2,933

231,482

+674

14,319

227,273

+322

3,009

225,461

+1,924

1,582

224,954

+379

4,616

223,325

+573

3,474

211,813

+77

8,483

193,118

+1,779

2,437

189,088

+889

1,775

185,680

+2,091

9,596

180,090

+2,859

5,692

172,726

+2,946

2,608

168,096

+978

2,349

167,516

+836

2,445

164,586

+351

2,992

158,434

+3,339

601

157,777

+378

947

156,397

+890

8,583

152,854

+214

3,250

152,031

+462

1,718

149,125

+569

3,180

148,888

+290

5,254

148,607

+237

5,469

147,277

+188

246

134,318

+449

2,955

133,507

+1,095

3,348

131,790

+526

1,512

131,195

+423

2,030

122,160

+512

2,505

119,803

+497

1,106

110,387

+1,444

1,435

109,088

+1,071

1,665

103,833

+222

2,836

99,162

+80

1,731

97,607

+339

360

88,938

+189

2,702

88,227

+109

4,635

83,109

+123

1,384

77,968

+64

619

72,340

+520

1,249

67,690

+474

1,277

59,113

+30

29

58,651

+206

517

57,714

+297

346

55,664

+567

978

55,493

+357

745

12,054

+374

70

7,527

+58

141

6,435

+30

52
Retrieved from: https://www.worldometers.info/coronavirus/
New Delhi's teachers are being sent to the Covid front lines, some without training, PPE or even pay
From CNN's Aditi Sangal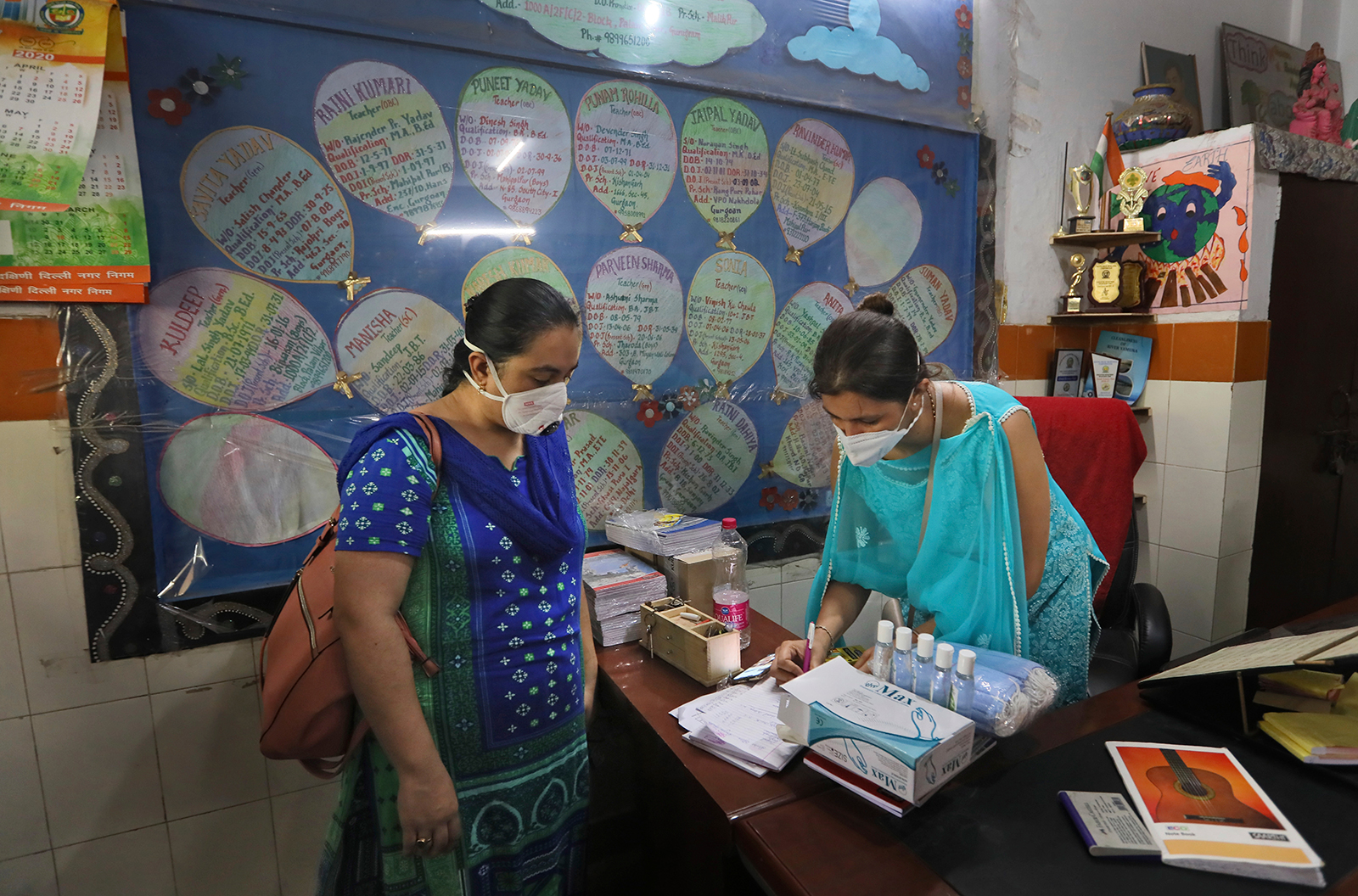 An Indian government school teacher notes down details to give a hand sanitizer to a fellow teacher who has been assigned to take a survey at a residential neighborhood in New Delhi, India on June 27. Manish Swarup/AP
Every morning, teacher Vikas Kumar texts video lessons to his students before going to his second job as an untrained, frontline coronavirus worker.
The 27-year-old normally teaches physical education but, like thousands of other government teachers in New Delhi, he was deployed to the pandemic frontline when the virus started spreading in India last March.
Since June, Kumar has filled a number of roles alongside his teaching duties. First, he said he distributed ration kits to the poor, then he was assigned to conduct door-to-door surveys of neighbors of confirmed Covid cases. In that role, which involved taking residents' temperatures, Kumar says he contracted the virus and was ill in July for 17 days.
In 2020, at least 28,000 teachers were deployed to Covid-19 roles, according to two teachers' associations in New Delhi. At least 35 teachers have died from Covid-19 during the pandemic, and hundreds more fell ill, they said. CNN reached out to the Delhi Ministry of Health to verify these numbers and received no response.
Several teachers in the Indian capital told CNN they were given no training and are juggling their coronavirus duties with their normal teaching roles. Those working for the municipal corporations, which are the local-level governing civic bodies in Delhi, say they haven't been given enough personal protective equipment (PPE) to shield them from the virus. Others say they haven't been paid their normal salaries for months.
"The central government is telling the nation to take health and safety precautions but here, the Delhi Municipal Corporations (DMCs) are telling us to expose ourselves to the virus every day," said Vibha Singh, the senior vice president of Nagar Nigam Shikshak Sangh (NNSS), a union representing about 20,000 teachers in DMC schools.
Teachers who do not report for their assignments can be threatened with action under the Delhi Disaster Management Act, according to Sant Ram, an elected member of the Government School Teachers' Association (GSTA).
Confidence in Chinese vaccines has taken a hit. But as cases rise, some countries are still pushing ahead
From CNN's Helen Regan in Hong Kong
Mass public vaccination programs using a Chinese coronavirus vaccine are underway across Indonesia and Turkey, where tens of millions of people are expected to receive doses of the CoronaVac shot made by Beijing-based company Sinovac.
On Wednesday, Indonesian President Joko Widodo was shown receiving the country's first CoronaVac shot, after the government authorized it for emergency use. While on Thursday, Turkish President Recep Tayyip Erdogan announced he had also received the vaccine.
But the rollouts come despite a growing number of questions over the effectiveness of the shot, which last week was revealed to have an efficacy rate of just 50.38% in late-stage trials in Brazil -- significantly lower than earlier results showed. That rate only barely crosses the 50% efficacy threshold as set by the World Health Organization, and is far lower than the 78% previously announced to much fanfare in China earlier this month.
The apparent discrepancy has led to concern among some scientists, and shaken international confidence in Chinese-made vaccines.
"Since many countries are planning to order, or have already ordered Sinovac's vaccines, it might undermine people's willingness to take them, because people may question the usefulness of the vaccines," said Yanzhong Huang, a senior fellow for global health at the US based Council on Foreign Relations and expert on the Chinese health care system. "It could be a potential stumbling block."
The Brazilian results suggest CoronaVac is far less effective than vaccines developed by Pfizer-BioNTech and Moderna, which have an efficacy rate of about 95%. Russia says its Sputnik V vaccine has an efficacy of 91%, while the UK's vaccine, developed by Oxford University and AstraZeneca, has an average efficacy of 70%. The Sinovac vaccine has a lower efficacy rate than its domestic Chinese competitor, developed by the state-owned Sinopharm, which it says has a 79.34% efficacy.
Covid-19 variants may not be more deadly, but they can still cause more deaths, says Fauci
From CNN Health's Lauren Mascarenhas
More infectious Covid-19 variants that are not necessarily more deadly can still cause more deaths, Dr. Anthony Fauci said Sunday in an interview on NBC's Meet the Press.
"Even though on a one-to-one basis, it's not more virulent, meaning it doesn't make you more sick or more likely to die, just by numbers alone, the more cases you have, the more hospitalizations you're going to have, and the more hospitalizations you have, the more deaths you're going to have," he said.
The Centers for Disease Control and Prevention recently warned that Covid-19 variants could accelerate the spread of the virus in the United States.
Fauci said the US is closely examining new variants, including one first identified in the UK and another, "more ominous" strain identified in South Africa and Brazil. Health experts are watching out for whether new strains could lessen the impact of Covid-19 vaccines, which would prompt some modifications to the vaccines.
Fauci, director of the National Institute of Allergy and Infectious Diseases, said it's important for people to double down on public health measures and get vaccinated as soon as they can to prevent excess hospitalizations and deaths caused by new variants.
Brazil authorizes two Covid-19 vaccines for emergency use
From CNN's Rodrigo Pedroso and Caitlin Hu
Amid a devastating resurgence of the coronavirus in parts of Brazil, federal health officials have finally voted to authorize two vaccines for emergency use.
Brazilian regulatory agency Anvisa on Sunday approved both the Oxford/AstraZeneca vaccine and the Coronavac vaccine.
Minutes later, Monica Calazans, a Black nurse from downtown São Paulo, became the first Brazilian to be vaccinated. Calazans, who is at high risk for Covid-19 complications and works in an ICU that has been at 90% capacity or above since April, exploded into tears before receiving the Coronavac shot.
"You don't understand what this means to me," she told São Paulo state governor João Doria.
Brazil is the country hit hardest by Covid-19 in Latin America. It has recorded more than 8 million cases and more than 200,000 deaths from coronavirus. While several of its neighbors have already approved vaccines for use, Brazil has seemed to lag despite its renowned public health and vaccination track record.
Coronavac, developed by Chinese company Sinovac, is now authorized for use of 6 million imported doses. It has a history in Sao Paulo state, where the local Butantan Institute conducted Phase 3 clinical trials of the vaccine. Butantan will also produce future doses.
However, Coronavac has shown a low average efficacy rate of 50.4% -- barely above the 50% minimum established by the World Health Organization. The number, which falls far below the 78% previously announced, has raised questions about the veracity of the data and fueled skepticism over the apparent lack of transparency regarding Chinese vaccines.
Retrieved from: https://edition.cnn.com/world/live-news/coronavirus-pandemic-vaccine-updates-01-18-21/index.html
The Dutch police clash with anti-lockdown protesters in Amsterdam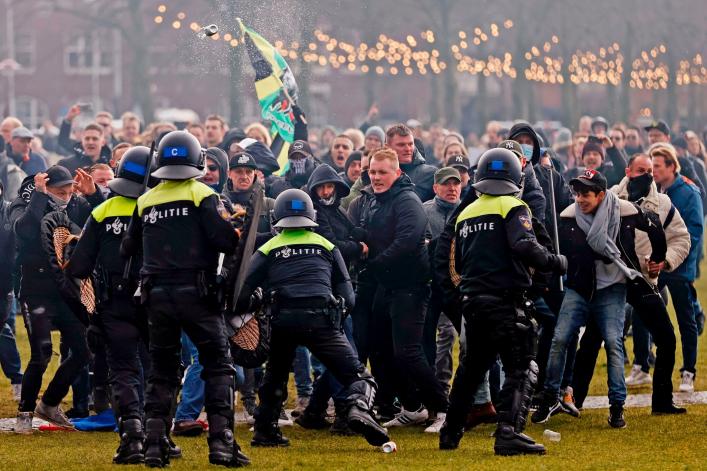 Riot police officers clashed with protesters during a demonstration in the Museumplein, a public square in Amsterdam, on Sunday.Credit...Robin Van Lonkhuijsen/Agence France-Presse — Getty Images
AMSTERDAM — The riot police used water cannons, batons, attack dogs and officers on horseback on Sunday to disperse hundreds of people throwing fireworks and stones in protest against the Dutch government and its coronavirus measures.
The protest followed the resignation of Prime Minister Mark Rutte and his cabinet on Friday over the Dutch tax authority's treatment of poor families amid a child-care benefits scandal.
The protesters gathered on a central square lined with famous museums, including the Van Gogh Museum, and the American Consulate, waving placards saying "Dictatorship," "Freedom" and "We are the Netherlands."
Video footage showed very few wearing masks, which are not mandatory in the open air, and no one keeping a social distance of five feet, one of the key health measures advised by the Dutch authorities.
Like most of Europe, the Netherlands is in a lockdown, at least until Feb. 9. Infections remain high but the rate has slightly dropped, with 34 coronavirus cases per 100,000 inhabitants.
Those protesting the social restrictions are a relatively small but vocal coterie of groups and individuals opposed to Mr. Rutte and his policies, and also angry at established media organizations. Much like the Trump loyalists who stormed the United States Capitol, they believe the system needs to be uprooted.
"These people live in their own truth, with their own news and own reality," said Hans Nijenhuis, the editor in chief of The Algemeen Dagblad, the largest newspaper in the Netherlands. "As we have seen in the States, we can't just ignore their discontent."
An application to hold Sunday's protest filed by Michel Reijinga, who was mustering supporters on Facebook, was rejected by officials. To prevent the spread of the coronavirus, all such gatherings have been prohibited in the country.
Hundreds — perhaps thousands, according to the organizers — nonetheless gathered at the central Museumplein square, prompting Amsterdam's mayor, the police force and the Netherlands Public Prosecution Service to send in riot police officers.
There have been several protests in the Netherlands pver lockdowns and coronavirus measures, as well as protests in support of the Black Lives Matter movement.
"We want to party and go to clubs, we are so tired of all these measures," a younger woman could be heard saying on the livestream of a new Dutch broadcaster called Ongehoord Nederland.
"Traditional media is saying these people are silly and mad, but a demonstration such as this one is a sign of broader dissatisfaction," said Arnold Karskens, the managing director of the channel. (Mr. Karskens has also opposed the abolishment of Black Pete, a controversial Dutch traditional figure in blackface, who Mr. Karskens says is mythological.)
"The truth is people are tired of all these measures," he added. "They feel there is no end in sight."
Retrieved from: https://www.nytimes.com/live/2021/01/17/world/covid-19-coronavirus/the-dutch-police-clash-with-anti-lockdown-protesters-in-amsterdam
Chinese officials trace a growing new outbreak to a salesman hawking health products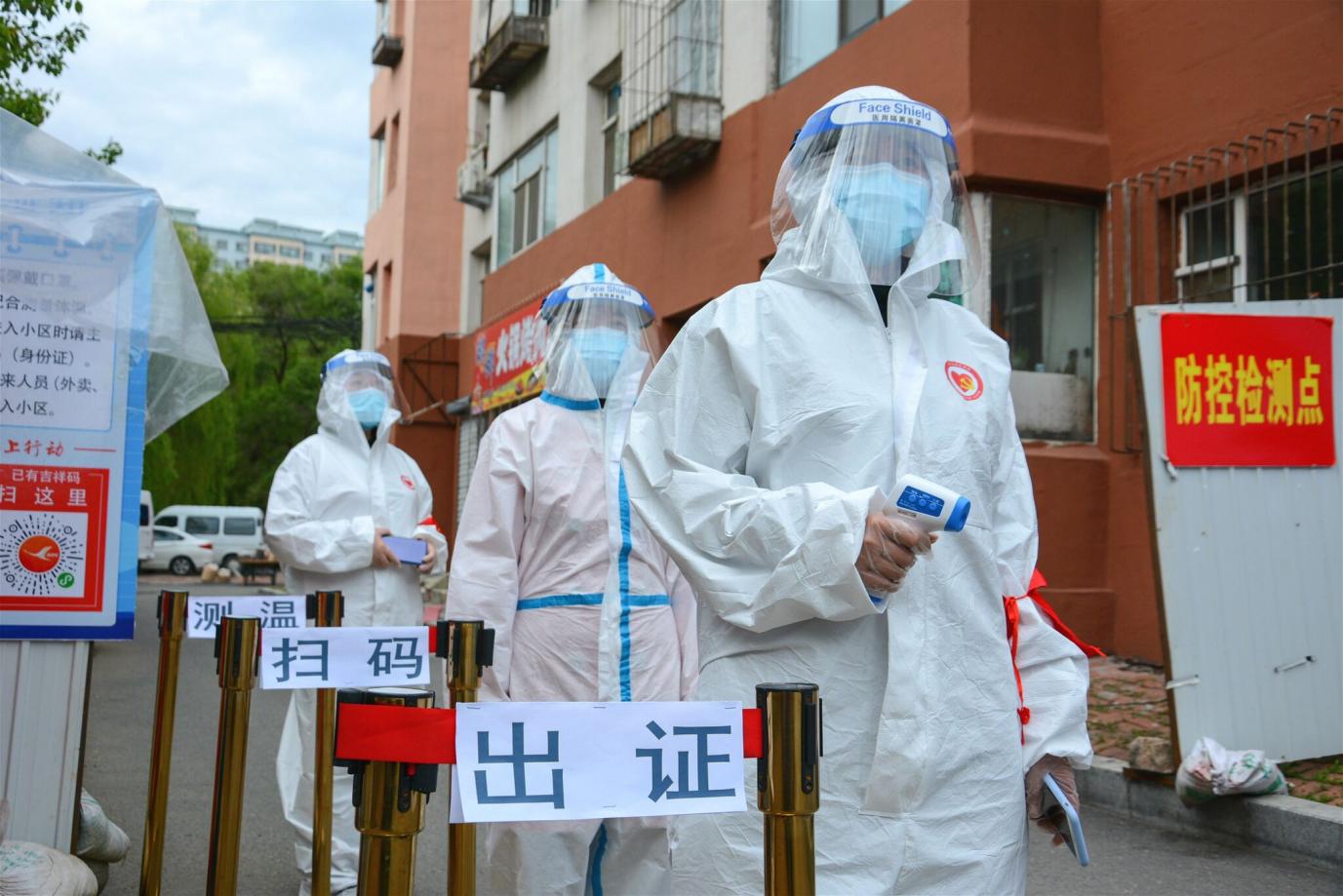 Volunteers at a checkpoint outside a residential area in Jilin, China, in May.Credit...Agence France-Presse — Getty Images
China's latest coronavirus outbreak has been traced to a salesman who appeared at a series of workshops in Jilin, a northeastern province in China, and has been linked to 102 infections that have emerged in recent days, officials in the province said in a briefing on Sunday.
The man, identified only by his last name, Lin, had participated in a series of workshops organized by two health care companies over five days this month. He is among 34 people who have now contracted Covid-19 in the province during this newest outbreak, at least 10 of whom have been linked to sales events held in storefronts in the cities of Gongzhuling and Tonghua.
In all, 79 people who attended the workshops have tested positive for the coronavirus, as have another 23 people who were in close contact with them. Mr. Lin may have been exposed to the coronavirus by a couple who traveled with him on a train, according to a statement posted on the provincial health commission's website.
The outbreak in Jilin was the latest in a small but significant surge in cases in China in recent weeks. China, where the pandemic began more than a year ago, had largely brought cases under control but is taking extraordinary measures again to staunch the latest outbreaks. Officials have locked down more than 28 million in people in several cities, including districts of the capital, Beijing.
And yet cases are still climbing, reaching an average of 149 a day in the last week.
Health care workshops like those in Jilin have become a profitable business aimed at China's growing population of elderly, though the businesses at times have been plagued by fraud and exaggerated claims for products. Mr. Lin worked for two companies, Yuansheng Quality Life Shop and Aishang Hanbang Health Club, according to the officials.
Liu Shunchang, an official in the province's market supervision department, said at the briefing on Sunday that the authorities had begun an investigation into the two companies' workshops. "Severe penalties will be imposed if there were violations of laws and regulations," he said.
Retrieved from: https://www.nytimes.com/live/2021/01/17/world/covid-19-coronavirus/chinese-officials-trace-a-growing-new-outbreak-to-a-salesman-hawking-health-products
Doctors in UK and Ireland face 'ongoing distress' from Covid first wave
PA Media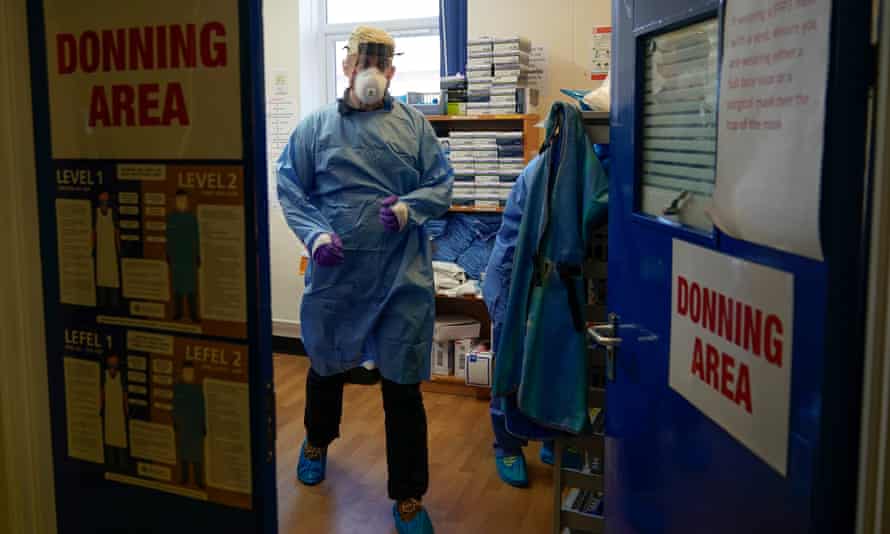 An anaesthetist working in an ICU unit in May 2020. Photograph: Christopher Furlong/Getty
Nearly half of doctors working in high-pressure conditions during the first wave of coronavirus face ongoing distress, research suggests.
A study based on responses from more than 5,400 doctors in the UK and Ireland found that 45% reported psychological distress as the pandemic accelerated to its initial peak in 2020.
Researchers from the Royal College of Emergency Medicine (RCEM) and psychologists from the University of Bath surveyed emergency, anaesthetics and intensive care professionals during the lead up to, peak and post-peak of the first wave of infections last year.
A total of 5,440 doctors – 16% of the 34,188 working in the field – responded to the "acceleration" survey. In the "peak" survey, 3,896 professionals subsequently responded and 3,079 to the "deceleration" survey.
Survey results, released early as a pre-print study and not yet peer-reviewed, put the prevalence of psychological distress at 44.7% of respondents in the build-up to the first wave's peak, 36.9% at the peak and 31.5% as it declined.
Prevalence of trauma was found among 23.7% of respondents at the first pandemic peak, and 17.7% as it decelerated.
Probable post-traumatic stress disorder was also found in 12.6% of respondents at the peak and 10.1% afterwards, the research suggested. The study also found that "worry of family infection due to clinical work" was most strongly associated with both distress and trauma.
The researchers concluded: "Our findings reflect a pattern of elevated distress during the acceleration and peak phase of the current pandemic, some degree of natural recovery and a significant minority continuing to experience residual ongoing distress."
Dr Tom Roberts from the RCEM, who led the research, said: "Our findings highlight the stark realities for many doctors across the UK and Ireland in responding to the public health crisis and the toll this has placed on their mental health.
"The extent of the challenge has at times been overwhelming and we see from our results the real-life impact this has on individuals' wellbeing."
Dr Jo Daniels, a clinical psychologist and senior lecturer from the University of Bath's department of psychology, added: "We now know that doctors are working on the frontline while carrying the heavy burden of fear of infecting themselves, or critically, family members, while some continue to battle high levels of psychological distress.
"This distress was evident in the lead up to the first peak, but our study shows it sustained well beyond this time point.
"It is now a pressing and urgent concern; doctors are at breaking point and cannot continue to work effectively in these very high pressured, high risk environments without psychological support to address their mental health needs.
"What is at stake not only affects the long-term mental health of this vital workforce, but their ability to function and deliver the services we depend on."
Researchers argued that it was essential that policymakers and professional bodies provided doctors with equipment to "mitigate both physical and psychological harm", increased awareness of the signs of psychological distress and developed clear pathways to provide effective care.
This could include formalised peer and team support structures and access to cognitive behavioural therapy (CBT), they said.
Prof Edd Carlton from the RCEM said: "Workers across the NHS have responded to Covid-19 with incredible bravery, commitment and dedication. Over and above warm words, what we need most is proper support to help deal with impacts this has had on us all."
Retrieved from: https://www.theguardian.com/world/live/2021/jan/14/coronavirus-live-news-new-york-pleads-for-more-covid-vaccine-as-global-daily-deaths-pass-17000-for-first-time?page=with:block-6000a0eb8f08729f18288054#block-6000a0eb8f08729f18288054
Summary
Here are the key global developments from the last few hours:
· UK prepares to vaccinate over-70s. Coronavirus vaccines will be offered to millions of over-70s and the clinically extremely vulnerable from this week as the government expands the rollout amid a border crackdown to keep out new strains. More than 3.8 million people in the UK – including over-80s, care home residents, and NHS and social care staff – have already received their first dose of a Covid-19 vaccine, but from Monday it will be rolled out to the next two priority groups.
· Chinese health authorities say they have traced 102 infections to a "superspreader" case, a 45-year-old man who travelled around the north-east of the country giving lectures on health.
· Brazil's health regulator on Sunday approved the urgent use of coronavirus vaccines made by Sinovac and AstraZeneca, enabling Latin America's largest nation to begin an immunisation program that's been subject to delay and political disputes.
· The US is nearing 400,000 deaths. According to Johns Hopkins University, by Sunday evening 23,923,062 cases and 397,494 deaths had been recorded in the country. Ron Klain, the incoming White House chief of staff, told CNN on Sunday that Biden's team projected another 100,000 deaths from Covid-19 in the first five weeks of the administration.
· Florida analyst who clashed with governor over Covid data faces arrest. Rebekah Jones, the founder of Florida's coronavirus database who has clashed publicly with Governor Ron DeSantis in a dispute over data manipulation, said she would surrender on Sunday after a warrant was issued for her arrest.
· China reports 109 new infections. China reported more than 100 new Covid-19 cases for the sixth consecutive day, with rising infections in the north-east fuelling concerns of another national wave ahead of a major holiday season.
· China's economy grew at the slowest pace in more than four decades last year despite a rebound after the country's coronavirus outbreak, official data showed Monday. The 2.3% expansion is the lowest figure since the Chinese economy embarked on major reforms in the 1970s.
· UK firms urge government to help struggling Eurostar: media. British business leaders called on the government to rescue Eurostar, reports said, after the firm said it was close to collapse following border closures to contain new Covid-19 strains.
Retrieved from: https://www.theguardian.com/world/live/2021/jan/18/coronavirus-live-news-brazil-approves-two-covid-vaccines-for-emergency-use-as-us-nears-400000-deaths?page=with:block-600528ab8f08c2ca166f8361#block-600528ab8f08c2ca166f8361